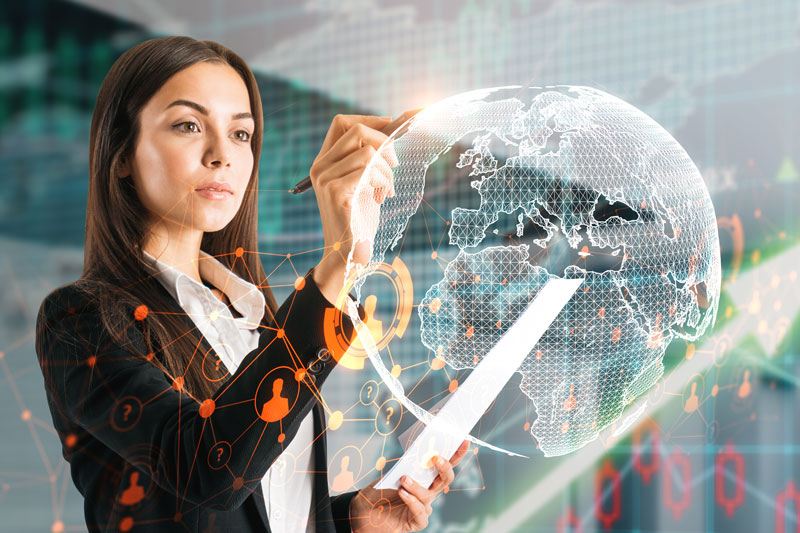 As women business owners, we are continually shaped by—and shape—the world around us. To build robust, resilient organizations, we must consider overseas influences and opportunities as well as how we can have positive global impacts by operating our businesses in sustainable ways and by connecting with, learning from and even mentoring entrepreneurial women worldwide.
According to the Office of the United States Trade Representative, the U.S. is the world's largest economy and the largest exporter and importer of goods and services. Trade is critical to America's prosperity—fueling economic growth, supporting good jobs at home, raising living standards and helping Americans provide for their families with affordable goods and services.
For women business owners who are interested in doing business globally, there are four primary ways to go about it:
Direct exports: One of the most popular ways of launching a product in a foreign country, in this strategy, you work with a distributor or agent to find resellers for your product in your target market. A good distributor has contacts and an understanding of the local market that will help in finding resellers for your product.
Franchising and licensing: Instead of marketing your product- or service-oriented business directly to consumers, you market it to current and prospective business owners. In franchising, foreign business owners pay you a fee to open a franchise, plus a percentage of their sales. Similarly, with licensing, foreign companies pay you for limited rights to your product.
Joint ventures: These are partnerships between companies where you agree to work together on a project, such as creating a new product. It's a good choice if you, for instance, decide to develop a market-specific version of an existing product since local companies are more familiar with their consumers' needs and expectations and have local marketing resources.
E-commerce: Online sales have been gaining ground on other modes of entry for more than two decades now. One major advantage is any company can do it with the right knowledge and resources—even a start-up from day one. You just need the right e-commerce store or platform plus an app localization service.
Buying a global company: There are plenty of advantages to buying an existing company in a foreign country. Among other things, your purchase comes with a share of the market, a brand, a customer base and employees. As with the other modes of entry, there are drawbacks—with the single largest being cost.
Still, many women business aren't ready or don't have the desire to go global, and that's okay. There are other ways to be globally minded and make an impact. Consider how your business can make smart changes that support the circular economy—where all forms of waste are returned to the economy or used more efficiently. You'll read about several women business owners with sustainable business models in this month's NAWBO ONE.
There are also opportunities throughout the year to join NAWBO delegations of women on international trips to expand your worldview. You'll see other countries and the challenges their women business owners face, and find commonalities for supporting and collaborating with one another to make the world a better, more compassionate and sustainable place.
If you are interested in possibly joining a NAWBO delegation, add your name to this interest list or email international@nawbo.org. Also note the upcoming opportunity below:
Save the date for FCEM's 70th World Congress in Paris on November 15-17. We'll hold an informational call this summer. Meanwhile, you can book your room now here.

—Karen Bennetts

  2022-2023 NAWBO National Board Chair