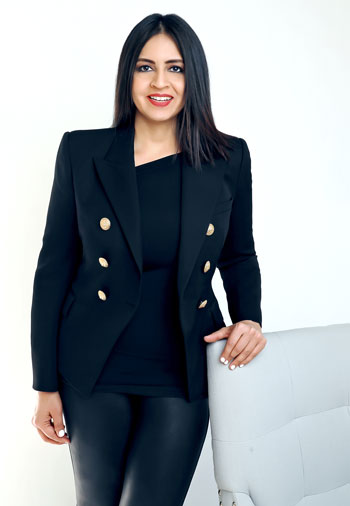 Never underestimate the power of words on paper. Shital Daftari used to write down things like, "How do I change my life?"
In 2011, she was stuck in a job that she did not enjoy and which paid too little. She wanted to change her life and live the life of her dreams.
Around that time, her brother was getting married, and she wanted to rent an Indian sari to wear at his wedding. "I wanted to look fabulous for such a special occasion without spending an arm and a leg," she says. "I couldn't go to India to shop but when I searched, I couldn't find any company providing Indian clothing rentals."
"I had a feeling I should start a business doing that, but the idea was vague," she continues. "When I asked friends and family what they thought, they said, 'It won't work. Who would rent your saris?' I thought, even though this idea may not be perfect, it is the only one I have and it's my chance to change my life."
So Shital took the leap of faith and with $3,000 of her savings, she started Saris and Things as an online platform to rent or buy designer Indian clothing for weddings and special events.
In 2012, she became an Amazon Seller and started selling her brand Saris and Things on Amazon. She also expanded to selling designer shoes, swimwear, fine jewelry and many top designer brands.
When the pandemic hit in 2020, Shital pivoted her business to selling PPE and was one of the first sellers to sell face masks on Amazon. Within weeks, she expanded her product line to include hand sanitizers, gloves, pulse oximeters, swabs, surgical gowns and all types of PPE. With the huge success she saw with PPE, she grew her business to selling COVID tests and lab supplies and launched her wholesale business, SNT Biotech, in the latter half of 2020.
Shital's company, SNT Biotech, now sells COVID tests and lab supplies to various hospitals and labs across the country, with 2021 revenues reaching over $31 million. Saris and Things is a WBENC-certified Women's Business Enterprise (WBE), WOSB certified, City of Chicago Certified WBE and BEP Certified by the State of Illinois.
She and her company have been named #6 on Women Presidents Organization's (WPO) Fastest 50 list; #264 on the Inc. 5000 list of America's Fastest Growing Companies; Enterprising Women of the Year Award winner; and Stevie Award winner for "Fastest Growing Company of the Year." Shital was also 2022 Ernst & Young Entrepreneur of the Year - Midwest Regional Finalist and received the Fast 50 Asian American Award by USPAACC.
"All this growth has led me to make my company more strategic," Shital says. "I am focusing now on self-growth and business growth—always working on these to take me to the next level." As part of that, next month, Shital will start the Harvard Business School Owner/President Management Program to sharpen her skills and build her network.
"Every day I work with the same determination as I had the first day I started my business," she says. "The day you're not working to get ahead, you're going backwards. I always take the first step with any new idea that comes to me. And once I take the first step, the next step shows up."
Since becoming a woman business owner, Shital has grown passionate about communities of support for women entrepreneurs. She is a member of NAWBO Chicago as well as organizations like WPO, WBENC, Women Business Collaborative and C200. About NAWBO, she says, "I think they're doing phenomenal work for women by providing the support."
In 2018, Shital co-founded an organization for Chicago's South Asian women, the majority of those being Indian. Women's Empowerment Campaign now supports women with networking events and job fairs and events like one this October to promote breast cancer awareness.
"For me personally, mentoring the youth is also very important," says Shital, who has one daughter and one son. "I want to teach our women and girls to be independent and to be that person who tells them, 'Yes, you can do it.' The biggest barrier women have is within them."
When Shital first heard she was a NAWBO Woman Business Owner of the Year finalist, she was thrilled. "I just felt like all the women are so amazing and to be listed in this group is an incredible honor," she says. "All these years you are working and invisible but know you are doing great things. When you get a recognition like this, you know people absolutely believe that you made it."
And incredibly, all this started with one question: How do I change my life?

 
---

In the Media
Shital was featured on the cover of Enterprising Women (EW) magazine's summer edition where she tells her story in her own words. Read it here. Also, watch Shital's She'd Moments video from the EW Conference. Also, read about Shital here as a Chicago business owner named 2022 Ernst & Young Entrepreneur of the Year Award - Midwest Regional Finalist.
Saris and Things is the largest online platform to rent or buy high-end, designer Indian clothing such as saris, anarkalis, lehengas, salwar kameez and sherwani and kurtas for men. It also sells Indian jewelry.
SNT Biotech is a leading supplier and distributor for COVID-19 antigen test kits, home test kits, PCR collection kits, VTM kits and lab supplies, such as swabs, tubes, biohazard bags and pipette tips.