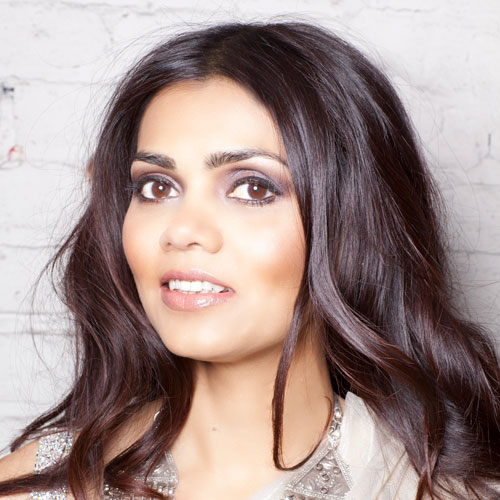 Change often starts with just one voice and for women restaurateurs during COVID, that voice was Rohini Dey.
A native of India, Rohini came to the U.S. to study economics and earn her PhD. This led to a "dream job" at international finance institution World Bank, and later at global management consulting firm McKinsey & Company.
During this time, Rohini noticed something about Indian food in the U.S. "I really stumbled upon entrepreneurship because of the bad rap Indian food had here," she says. In 2003, Rohini tapped into her cultural background and experiences from traveling to 55 countries where she enjoyed everything from street food to high-end cuisine and opened an Indian restaurant in Chicago—with a twist (it's Indian-Latin fusion).
Vermilion immediately won critical acclaim from Best Restaurants, Travel & Leisure, Bon Appetit, Town & Country, Esquire and more for its bold, creative and memorable Indian-Latin melding. Five years later, in 2008, she opened a second location on Park Avenue in New York City.
These experiences gave her a first-hand view of women in the restaurant industry. "I've seen the glass ceiling in other industries, but the 'gastro-ceiling' in mine appalls me," she shares. "There are not a lot of women restaurant owners. They're mostly working with their husbands or families, or on a very small scale, and financial literacy and external capital are rare. It's led me to be a zealot for women in my industry around ownership."
Like she did with Indian food in America, in 2011, Rohini set out to change this as well. She launched the Women's Leadership Program for the James Beard Foundation (JBF) (and later two additional programs for women with JBF), chaired it for the next decade and served as a trustee.
Then the pandemic hit in March 2020 and the restaurant industry was one of the most impacted. Women restaurateurs were especially challenged—they were scrambling to access the capital they needed to survive and many were also juggling added responsibilities at home.
Rohini reached out to Chicago's women restaurateurs in July to see how they were coping. "It was a terrifying time for us," Rohini recalls. "We were racking up debt and struggling with 'Do we want to subject our employees and patrons to this?' Most were trying everything under the sun to make it work safely, and eventually we had to open indoors."
She brought 20 of Chicago's women restaurateurs together to support one another, and has grown it from there into a movement called Let's Talk Womxn. Today, Let's Talk Womxn includes more than 60 women restaurateurs in Chicago alone, plus over 600 in 13 cities nationwide. "We invite all cities to join us," Rohini says. "It's been very transformational for us, and it's been a lot of work for me, getting this off the ground and sustaining it!"
Rohini used her industry connections to grow the movement. She reached out to established women she knew in different cities and asked them to reach out to their networks. Women in each city, called co-hosts, nourish their groups and leverage partnerships. She holds monthly confidential Zoom calls where participants get to know one another and share information, resources and best practices. They have even applied for grants together.
"We are so brutally candid with each other," Rohini says of these calls. "It's about camaraderie, resources, support and referrals; all with the goal of boosting our top and bottom lines. Most women don't have restaurant groups. Entrepreneurship can be very lonely, so this has helped with the isolation."
Many of these local groups have since expanded to participate in larger communitywide events, from economic collaborations and city picnics to Earth Day and National Women's Day events. Rohini and her Let's Talk Womxn co-hosts have also spoken at events across industries and countries. Within months of inception, Rohini and Let's Talk Womxn were recognized as a national force, Top 50 Influences in Food and Top 25 Women in Food. This unique model has also been showcased on Good Morning America, TODAY and other forums nationally.
Another thing that has resulted from this "collaboration among competitors" is being able to use their voice and power to create change. For example, during the pandemic, food delivery services like Grubhub and Uber Eats were charging 30 percent for every order. In Chicago, Let's Talk Womxn wrote an opinion piece in the Chicago Tribune around the closure of their restaurants and met with their governor and state restaurant association to negotiate this fee down to 15 percent, among other advocacy areas.
In the future, Rohini and her Let's Talk Womxn co-hosts are excited to continue using their voice and power to shape public policy. After all, change often starts with one voice and Let's Talk Womxn now has 600, as it continues to grow.
"The power of collaboration is enormous," Rohini emphasizes. "That's what I've learned from Let's Talk Womxn. It's very easy to get immersed and insular as a woman business owner. Take the time to leverage the power of collaboration."
---
Let's Talk Womxn & NAWBO
Rohini is a member of NAWBO Chicago as well as a few other women's groups. "I'm a strong believer in networking and that you get out of it what you put into it," she says. "NAWBO Chicago's executive director, Melissa Lagowski, has come to our events and helped spread the word to the NAWBO network, so we've had more members join us as a result."
Most recently, Rohini was named NAWBO National's Advocate of the Year for 2022 for her work in advancing the women business owner community in a bipartisan spirit. The award honors a woman business owner who is a voice of collaboration and who effectively presents or moves legislation, regulation reform or new initiatives forward. Congratulations Rohini!
 
---
Rohini and Let's Talk Womxn in the News
Learn more about Rohini and the movement she started and leads with her co-hosts:
Today Show
Good Morning America
TimeOut Women of the Year
NRN Top 50 Power List
WGN NewsNation
CNN Business Opinion
NRN Top 25 Most Influential Women List