A recap of NAWBO's 2022 HERstory in the Making International Summit by Anne Freedman of Speakout LLC and NAWBO National's International Committee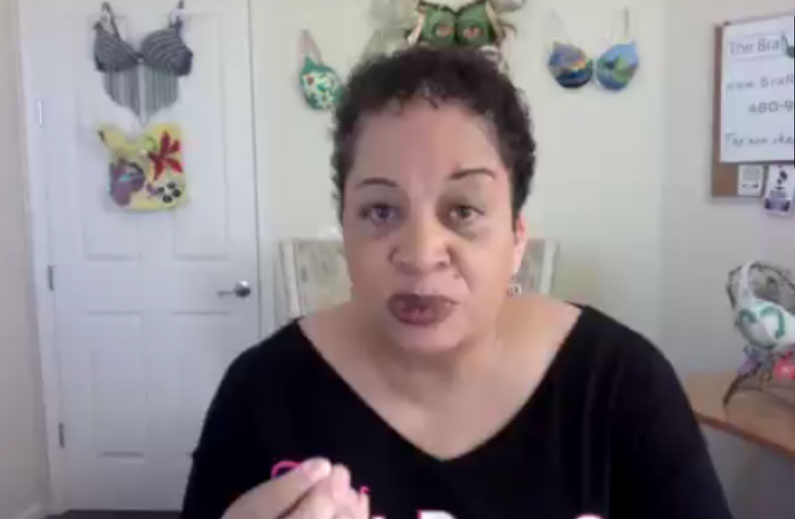 Recycled bras going to 130 nonprofits worldwide, tequila bottles from Mexico for "to-go" cocktails, Moroccan skincare products and innovative waste containers all are part of the global environmentally conscious "circular economy"—and women business owners are leading the production and sales of these remarkable products and trends.
At NAWBO's recent virtual 2nd annual international event, HERstory in the Making, with more than 200 attending from 10 countries, the focus was on the emerging "circular economy" and the role of women entrepreneurs who have profitable businesses that are also committed to re-using and saving resources. UPS was the supporting sponsor. I've served on NAWBO's International Committee for several years and am delighted to deliver these insights to you.
Sharing how the textile industry recycling efforts are still primarily male-dominated, Elaine Birks-Mitchell, founder and CEO of the Bra Recyclers, based in Gilbert, Arizona, reported that "92 million tons of clothes are thrown away annually. Bras are either cut, burned or go into a landfill. The question is: Do we donate or re-sell what we have?" She answered the question of what to do with bras in your drawer that you're not using, and that's to donate them so others who really need one can benefit. Her company accepts those donations and provides bras to more than 130 nonprofits every year. 
Adriana Diaz, a Mexican entrepreneur, produces designer dresses and purses using 85% recycled materials, said Lucero Cabrales Garcia, Natiocomnal President of the Mexican Association of Women Entrepreneurs (AMEXME). She presented videos on several member companies, including a furniture renovation enterprise that turns doors into dining tables and a printer who has converted leftover vinyl pieces into pillows and other décor items.
Forever changing skincare production and packaging of shampoos, exfoliants and after-shave lotions, Moroccan entrepreneur Siham Nassouri, owner of CasaArtisan Savonniere Jnane Marjorelle, has created mini-products that don't use plastic bottles for storage. Instead, the products are transformed into bars, and packaging is with paper and glass. Plus, she's using local, organic mini-producers of elements such as rose powder and lava clay for more natural products.
More than 200 years ago, the tequila industry was established in Mexico. With increased awareness of its impact on the environment, CEO and Co-Founder of Tequila Casa Dragones, Bertha Gonzalez Nieves, started recycling used bottles into water bottles and take-out cocktails during COVID. The company is also recycling wastewater to grow its agave plants and steam for energy, all efforts to preserve the local environment.
Even if you're a service company and not using materials to produce products, urged Marie-Christine Oghly, World President of Femmes Chefs d'Enterprises (FCEM), a global women's business organization founded in 1945, you can help with more careful buying practices.
"You can be responsible by purchasing from companies that are adhering to sustainability," she said. Pay attention to your use of energy, she also stressed.
"Data storage requires so much energy. We store photos we never look at," she added. "It's not only larger factories that are involved, but these practices can be done at any level."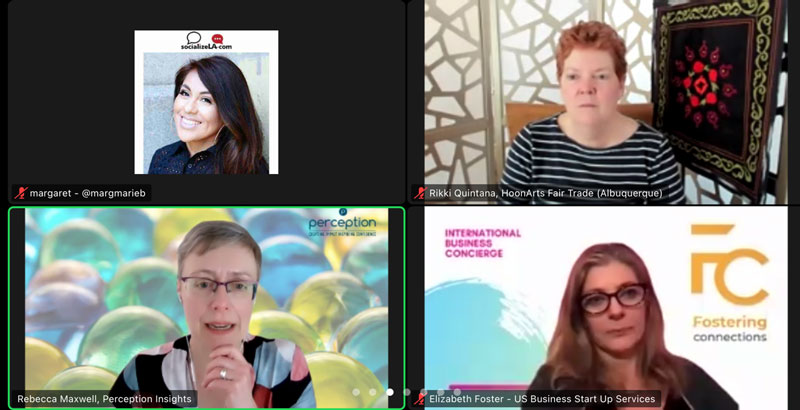 A series of interactive networking sessions followed, where attendees could meet other business owners from all over the world. In one of my breakout sessions was Rosalía (Chally) Vass Soto, owner of a waste container manufacturer, Acguaviz Company, SA de CV, in Juarez, Mexico. She said her company is committed to educating people about the importance of waste recycling and composting and especially helping children learn about these practices, because their behavior will help determine our planet's future.
Opening the three-hour long program was Cristina Morales Heaney, NAWBO National Board Chair. The Circular Economy panel was moderated by Teresa Meares, owner of TM Consulting and Vice Chair of FCEM. The NAWBO International Committee, co-chaired by Griselda Quezada-Chavez, a certified international property specialist with Coldwell Banker, and Jeanette Armbrust of Greenlight Leadership Consulting Group, organized this program. It is comprised of members and leaders from different chapters, and regularly sends delegates to conferences and meetings overseas, helping to promote women business owners expanding to other countries.
Two closing sessions offered American and foreign women business owners guidance on doing business overseas. For next year, the goal is to offer the HERstory in the Making event in multiple languages and expand the reach to many more women business owners. To make this possible, the NAWBO International Committee is looking to secure sponsors to help underwrite the expenses. If you're interested in sponsoring, please contact bragan@nawbo.org.
Don't miss it next year! (Look for an announcement soon about a late March 2023 date.)
---
About the Author…
Anne B. Freedman is owner of Speakout LLC in Miami, Florida and a member of NAWBO's International Committee and Enterprising Women Magazine's Advisory Board. Anne provides executive presentation coaching and team communication programs for U.S. and international executives. She can be reached at anne@speakoutinc.com or (305) 733-4054. Learn more at www.speakoutinc.com.